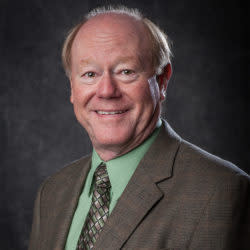 Greater New Braunfels Chamber of Commerce Vice President of Economic Development, Rusty Brockman, announced today that he is retiring from the organization effective March 15, 2018. Brockman has been with the Chamber since June 2001 and prior to that was an educator with the Comal ISD.
"Rusty has been an invaluable member of our team here for over 16 years and we will miss him greatly," stated Chamber President Michael Meek. Meek continued, "No one was in the office earlier each day. Rusty juggled successfully many tasks for us through the years, including staffing our Business Education Partnership Committee, Natural Resources Committee, Transportation Committee, as well as being our lead recruiter for many new companies. He excelled in all aspects of the profession and New Braunfels is the better for it."
Brockman has been or is currently involved in many non-profit organizations, including the Breakfast Lions Club, his church, the United Way, Christian Businessmen's Association, being the voice of the Canyon Cougars as PA announcer, and the Wurstfest Association. During the recently completed Wurstfest, Brockman had the honor of presiding as the Grosse Opa for the festival.
"The opportunity afforded me in June 2001 by Michael Meek to do economic development has been very rewarding. I am a part of a very special team of people here at the Chamber, who have allowed me to grow professionally. Our team including the City, County, Chamber, EDF, NBIDC, and NBU has successfully promoted healthy growth and strong job creation for our community. For those, and many other successes, I am thankful and proud to have been a member of this Team, "explained Brockman.
Among some of the more notable contributions of Brockman to the community include recommending the Chamber start a Communities in Schools organization here, recently organizing a new workforce preparation program in both local school districts, recruiting Canadian General Tower in 2016, and the expansion of the Central Texas Technology Center. "We hope Rusty will stay active with the workforce development program since he has such in-depth knowledge of the opportunities here," explained Meek.
A process to fill the position of Vice President of Economic Development for the Chamber will begin soon according to Meek. The goal will be to have a person identified by early in 2018 and on board in the February timeframe to allow for transitioning.