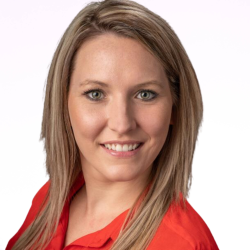 Brittany Hoffmann serves as the CVB Marketing and PR Coordinator for the Convention and Visitors Bureau. Hoffmann was born and raised in North Texas. Upon graduating high school, she moved to Dallas where she was the Office Manager at Tourneau for more than nine years.
After graduating college, Hoffmann moved to New Braunfels to be with the love of her life and married in 2016. As a new local, what better way to start off a new chapter than working on the river as the Group Coordinator for Rockin 'R' River Rides? In the summer of 2018 she and her husband welcomed their first child, Dylan.
When Hoffmann is not working she is spending time with her husband, son, and five fur babies. She loves taking road trips to visit her family in North Texas, going out for a boat ride, and fishing. 
Fun Facts:
What is your favorite Holiday? Christmas, Jesus is the reason for the season! I love the decorating, music, movies, family gatherings, and New Braunfels events.  
If you could have dinner with anyone, past or present, who would it be? My late grandfather. Every year I would visit my grandfather in Michigan and every evening we would go to the same old country style restaurant to sit and talk for hours.
If you could have one super power, what would it be? How fun would it be to teleport?! To be able to go anywhere in the world in a blink of an eye!