Brittany Hoffmann has recently joined the staff and runs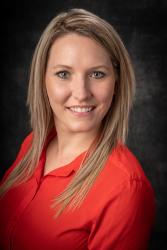 Guest Services for the Chamber. Hoffmann's duties encompass many touchpoints with guests. She believes that each time the front door opens is an opportunity to make someone's day brighter. She enjoys educating visitors on our beautiful city's history, attractions, and businesses. Additionally, Hoffmann runs the CVB's online events calendar, ensuring all visitors near or far know what is happening in our "burg". She also works with our Convention and Marketing teams to fulfill lead requests and packets. She loves the change of pace that her position brings and looks forward to the challenges each day brings.
Hoffmann was born and raised in North Texas. Upon graduating high school, she moved to Dallas where she was the Office Manager at Tourneau for more than nine years. After graduating college, Hoffmann moved to New Braunfels to be with the love of her life and married in 2016. As a new local, what better way to start off a new chapter than working on the river as the Group Coordinator for Rockin' R River Rides? In the summer of 2018 she and her husband welcomed their first child, Dylan.
When Hoffmann is not working she is spending time with her husband, son, and two fur babies. She loves taking road trips to visit her family in North Texas, going out for a boat ride, and fishing. Next time you stop by the lobby, say hello!

Fun Facts:
What is your favorite Christmas tradition? As soon as the day after Thanksgiving, I start listening to Christmas music all day every day. My husband and I also started a Christmas tradition a few years ago no matter where it may be, we will take a road trip for the Christmas holiday.
If you could have dinner with anyone, past or present, who would it be? My late grandfather. Every year I would visit my grandfather in Michigan and every evening we would go to the same old country style restaurant to sit and talk for hours.
If you could have one super power, what would it be? How fun would it be to teleport?! To be able to go anywhere in the world in a blink of an eye!