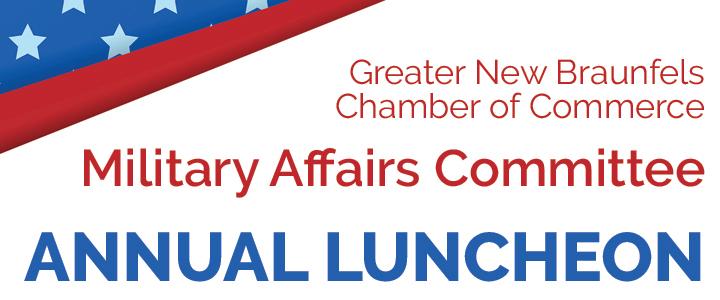 The Chamber's Military Affairs Committee is proud to host its 2nd Annual Luncheon on Tuesday, June 18 at 11:30 a.m. at Seekatz Opera House with guest speaker Brigadier General James R. Sears, Jr. The luncheon is presented by Moody Bank.
Brig. Gen. Sears is the Director of Plans, Programs and Requirements, Headquarters Air Education and Training Command, Joint Base San Antonio Randolph, Texas. He is responsible for planning and programming $7.6 billion annually supporting 60,000 personnel across 22 bases charged with recruiting, training, and educating for the United States Air Force and our international partners. He develops AETC's inputs to the Program Objective Memorandum, leads AETC Strategic Planning, and manages flying training and technical training operational capability requirements.
The event will include remarks by Committee Chair Maj. Gen. (Ret.) James Whitmore, buffet lunch, and a keynote address by Brig. Gen. Sears. Individual tickets are $25. Reserved seating and sponsorships are available. In addition to Moody Bank, the luncheon is also sponsored by Ashtanga Yoga Shala New Braunfels and J & R Gymnastics.
The purpose of the Military Affairs Committee is to enhance relationships between the New Braunfels community and the military, particularly those Airmen stationed at Randolph AFB.  Since 1968, the committee has hosted a quarterly reception for an Outstanding Airman from RAFB to demonstrate our appreciation, ongoing commitment, and support to all who serve our nation. The New Braunfels community has always opened its arms to those who serve and will continue to proudly support all who choose to defend the United States of America.