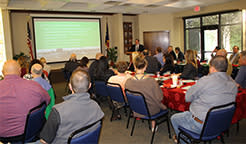 Today's Chamber of Commerce Board of Directors meeting was a busy one with the adoption of the 2018 Plan of Action, election of a board member to the Braunfels Foundation Trust, a resolution from the Transportation Committee, recognition of outgoing board members, four life memberships, Hall of Honor inductions and a regional transportation update. The Chamber's annual Plan of Action supplements the 2015-2018 Strategic Plan and directs staff action and initiatives throughout the year. The Plan was approved unanimously.
Judge Charles Stephens was elected to serve as a board member on the Braunfels Foundation Trust. The Chamber's Transportation Committee presented a Resolution supporting the City of New Braunfels and Comal County roadway improvement projects for the Alamo Area Metropolitan Planning Organization's FY 2019-2022 Transportation Improvement Program. The full Resolution, City approved projects, and County approved projects can be viewed here. The Chamber Board approved adopting a similar resolution.
Outgoing Board Members Soriya Estes, Jimmy Rabon, Natalie Rougeux, Christine Seidel, and Travis Wuest were recognized and thanked for their service. Art Brinkkoeter, Neal Linnartz, Sandy Notle and Greg Lutz were recognized for achieving their Life Membership status with the Chamber. Joe Castilleja, Mark Hampton and Bob Smith were inducted into the Hall of Honor. The Outgoing Board Members, Life Members and Hall of Honor inductees will all be further recognized at the 99th Annual Chamber Banquet & Awards Program on January 26, 2017.
The meeting wrapped up with a regional transportation updated provided by Vic Boyer, President of the San Antonio Mobility Coalition (SAMCo), and Mario Jorge, TxDOT District Engineer. SAMCo is a public/private partnership formed in 2001 consisting of the City of San Antonio, Bexar County, Alamo RMA, VIA Metropolitan Transit, AAMPO, several Chambers of Commerce, the Greater New Braunfels Economic Development Foundation, and private sector firms. The coalition works on creating public support and raising money for transportation projects. Recent developments have created additional funding for transportation in Texas and the San Antonio District's funds have tripled over the last several years, but our region still faces an $11.3 billion funding gap.
Jorge reviewed TxDOT programs including their 100th anniversary recognition, education programs for work zone safety and drinking and driving dangers, and Hurricane Harvey relief efforts. He reported that more than 20 million cubic feet of debris has been removed from hurricane impacted areas, 4,900 TxDOT employees have been working on relief efforts, and TxDOT's estimated damage is $189 million. Although TxDOT may have received approximately $3.5 billion more in funding for the 2018-2019 biennium, that only equates to approximately $1 billion in new projects as the rest goes to maintenance and continuing ongoing projects.
Jorge pointed out that in the district, $3.1 million is spent on mowing, $5.1 million is spent on guard rail repairs/replacement, $1.8 million is spent on litter pickup, $760,000 is spent on debris, and $1.6 million is spent on sweeping. Locally I-35 operational improvement projects span more than 18 miles and include improvements at Schwab Road, Engel Road, Solms Road, Loop 337/Rueckle Road, Schmidt Avenue/Business 35, Walnut Avenue, FM 725 (Seguin Avenue), SH 46/Loop 337, Business 35, FM 306/Creekside Crossing, Kohlenberg Rd/Conrads Ln, Watson Ln, and FM 1102/York Creek Road.
Art Brinkkoeter earns his Chamber Life Membership.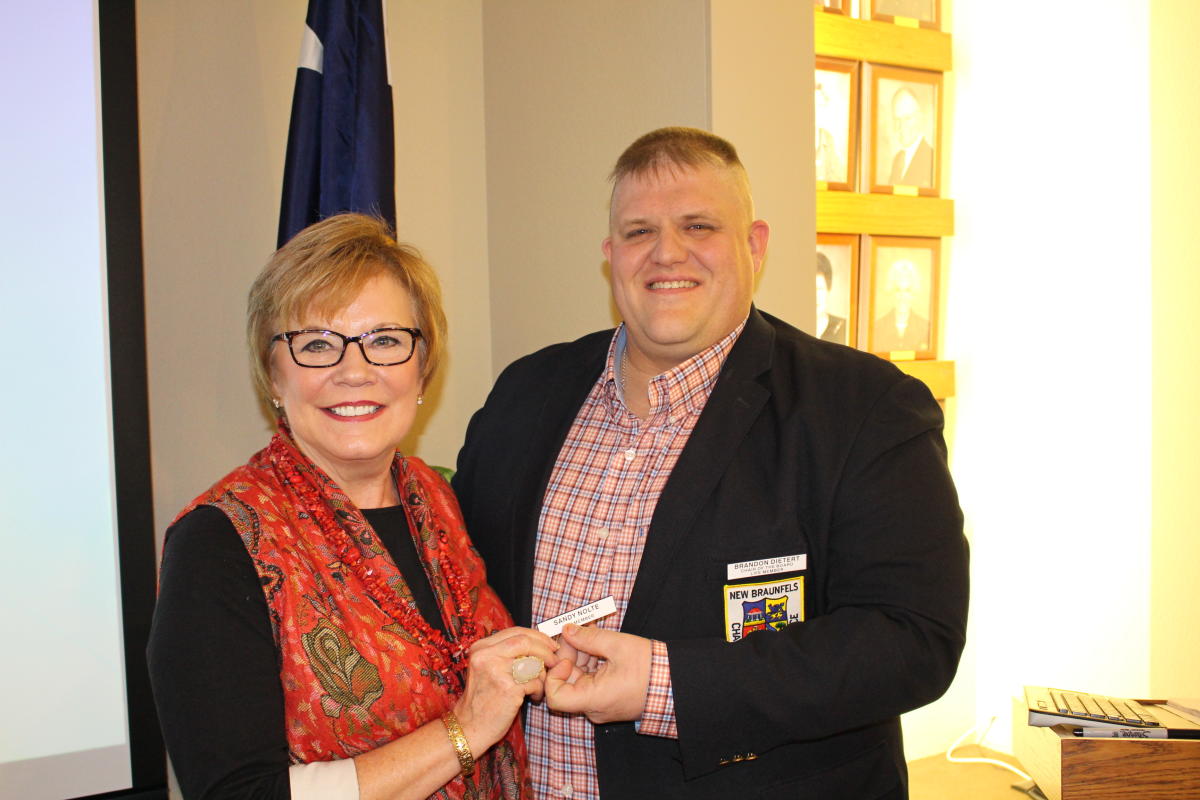 Sandy Nolte earns her Chamber Life Membership.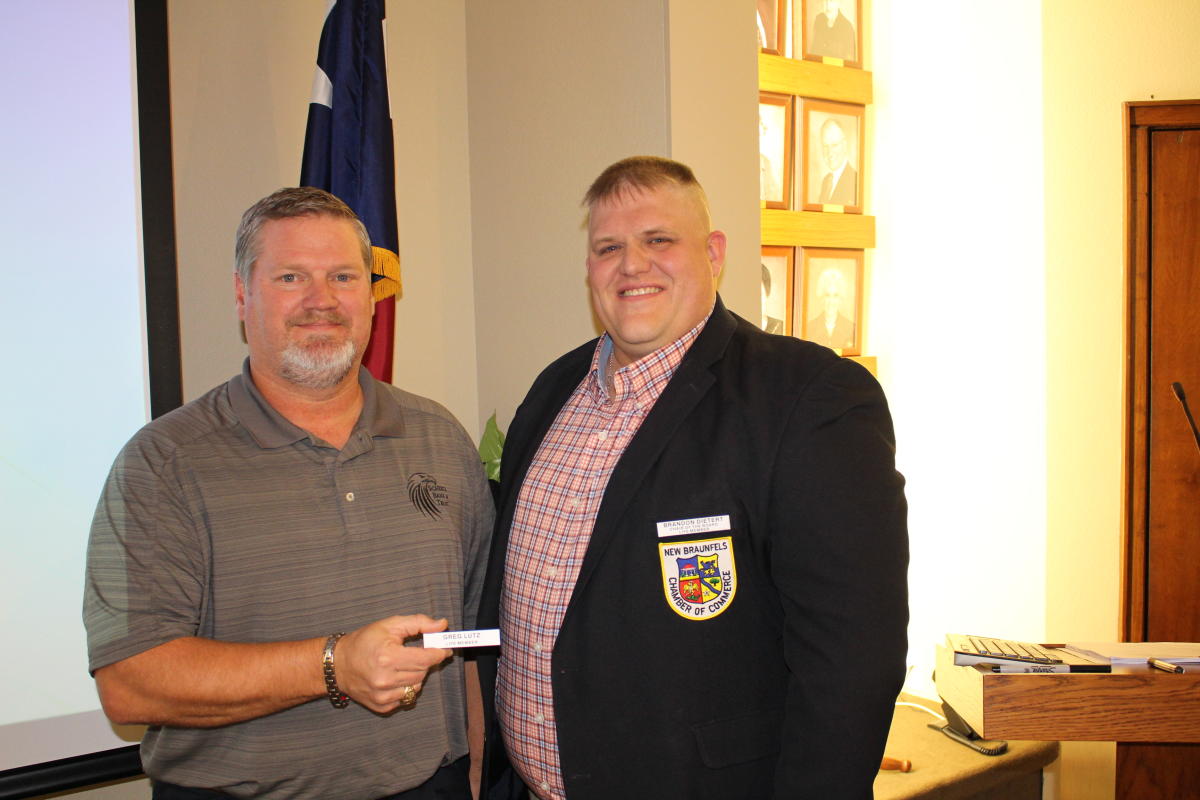 Greg Lutz earns his Chamber Life Membership.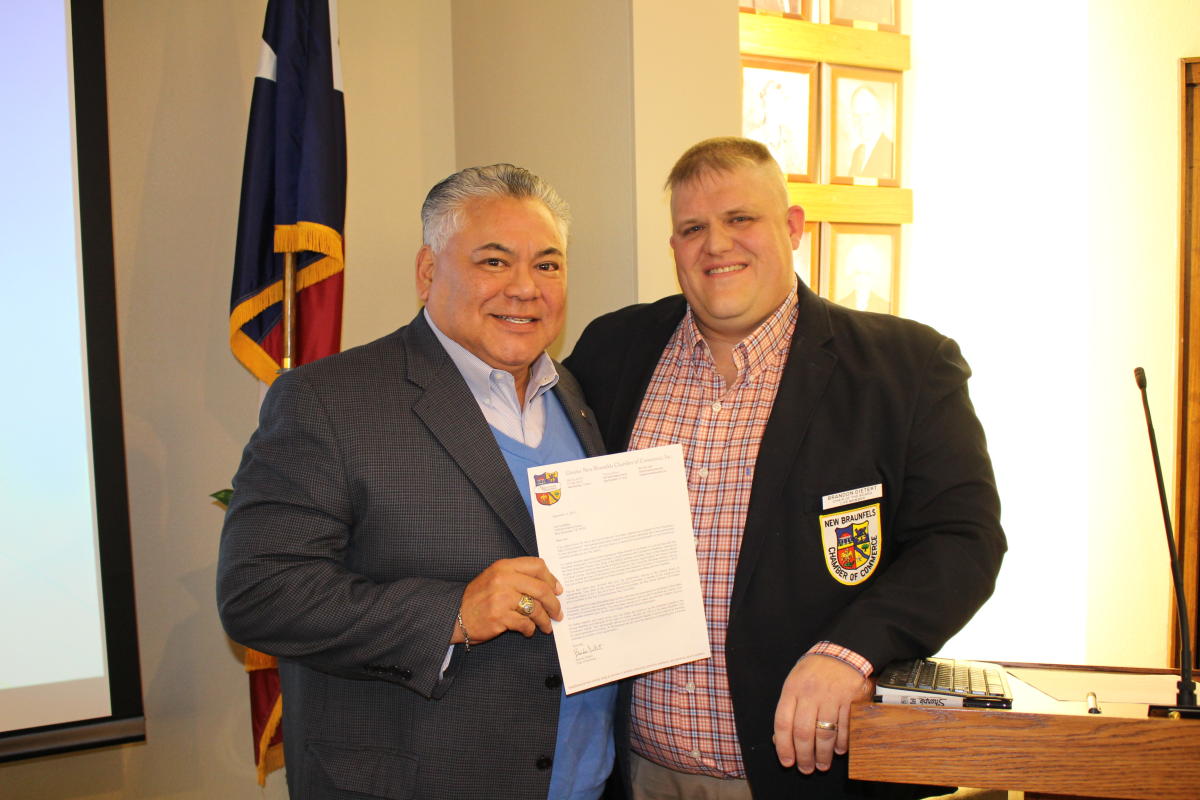 Brandon Dietert presents Joe Castilleja with his Hall of Honors Award.
Brandon Dietert presents Mark Hampton with his Hall of Honors Award.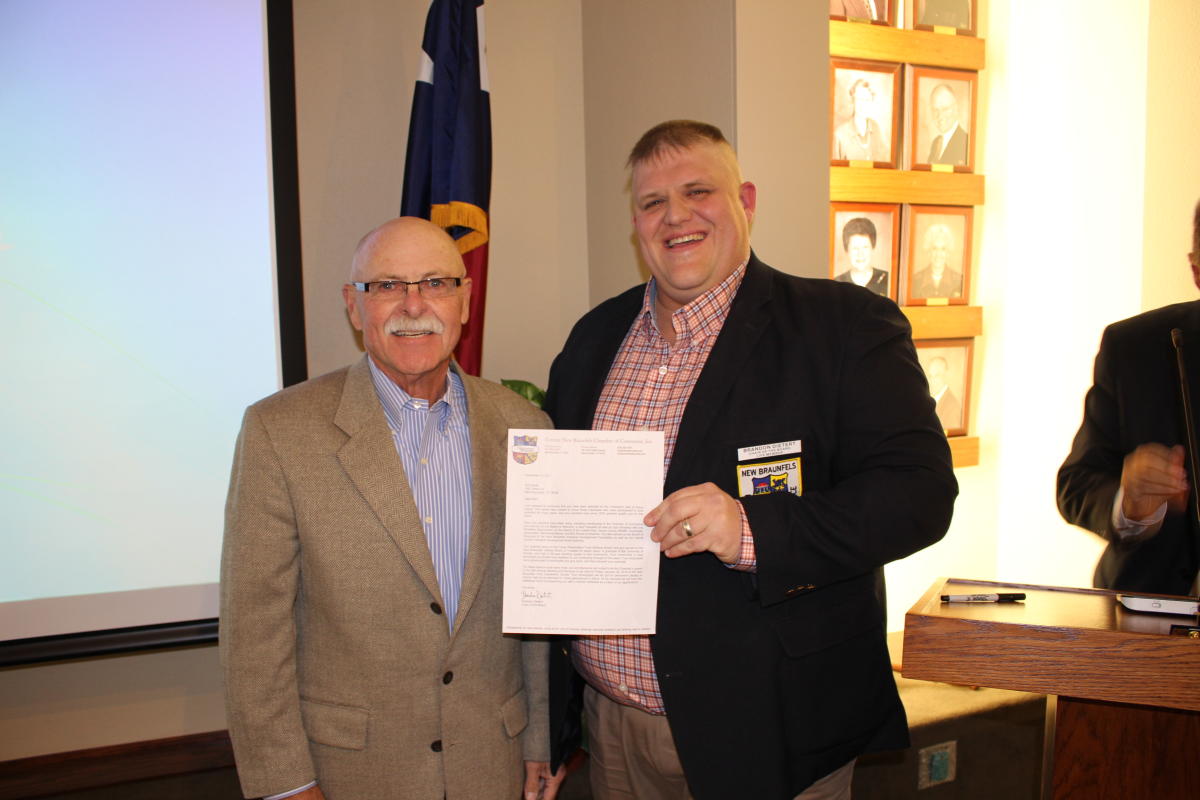 Brandon Dietert presents Bob Smith with his Hall of Honors Award.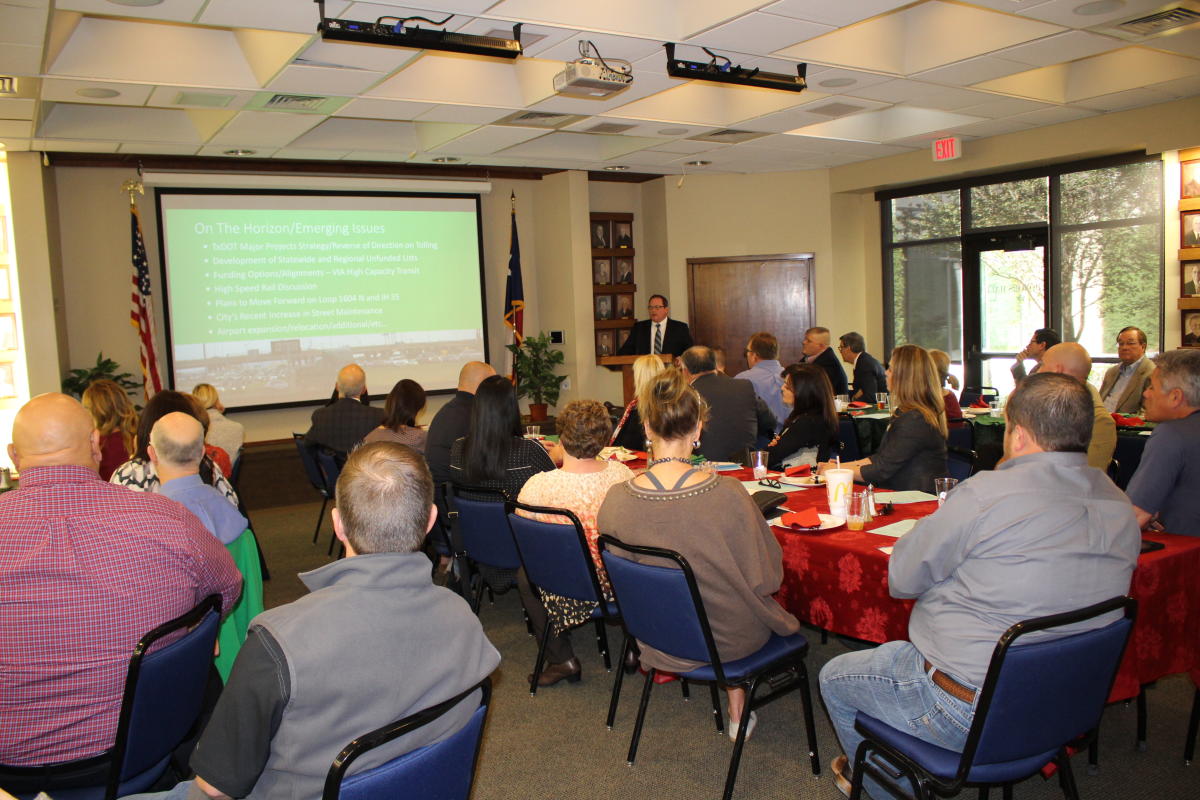 Vic Boyer with SAMCo presents to the Chamber Board.