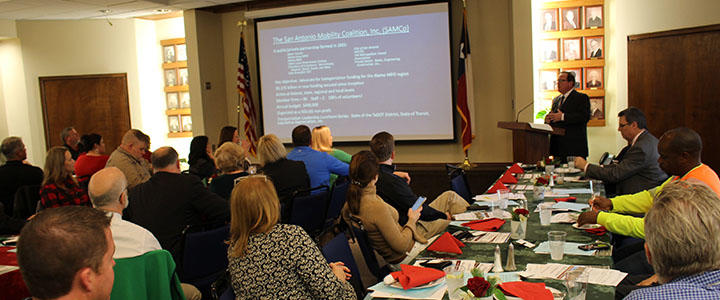 At today's Board of Directors meeting, the Chamber's 2019 Plan of Action was approved, a Board Member was elected to the Braunfels Foundation Trust, the outgoing Board Members were recognized, three individuals were inducted into the Hall of Honor, and a transportation update was provided.
In accordance with the Chamber's Bylaws, each December the Board approves a Plan of Action for the coming year. The plan covers the Chamber's four priority areas – Economic Vitality, Community Excellence, Member Value, and Advocacy, and serves as a roadmap for activities over the next year.
As part of the Chamber's agreement with the Braunfels Foundation Trust, a Chamber member serves on that organization's Board and Barry Williams was elected for a term ending in December 2021. David Compton, Brandon Dietert, Nelda Juarez, and Judge Charles Stephens were all recognized for their service to the Chamber Board as their terms come to an end.
Three outstanding community leaders were inducted into the Hall of Honor. This award was created to honor those individuals who have participated in civic activities over many years and Arlon Hermes, Betty Kyle, and Anne Miller will all have their photo on permanent display in Honors Hall for future generations to follow.  Read more here.
TxDOT District Engineer Mario Jorge and SAMCo President Vic Boyer provided the Board with a transportation update. According to Jorge, Propositions 1 and 7 have allowed TxDOT to accelerate some projects and there is 400 million in construction dollars planned for Comal County in the coming years. The Loop 337 project is going very well and is expected to be completed well before its anticipated finish date of summer 2020. A big project coming online for the region is a $1.8 billion addition to IH35 from AT&T Parkway to 1103 with the addition of 6 lanes.
Boyer gave an update on the activities of SAMCo, a public/private partnership formed in 2001 consisting of the City of San Antonio, Bexar County, Alamo RMA, VIA Metropolitan Transit, AAMPO, several Chambers of Commerce, the Greater New Braunfels Economic Development Foundation, and private sector firms. The coalition works on creating public support and raising money for transportation projects. Since its inception, SAMCo has helped secure $6 billion for transportation projects.