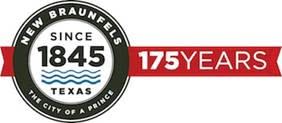 At today's Chamber Board of Directors meeting, awards for Blue Coat of the Quarter and Senior Blue Coat of the Quarter were given out, a Life Membership was given, an update on Team NB was presented, a Chair of the Board Award was announced, and a presentation was delivered on New Braunfels 175th Anniversary Celebration planning. Larry Alexander won the Blue Coat of the Quarter Award, Rita Powell took the Senior Blue Coat of the Quarter Award, and Georgia Malmsten, of Edward Jones, was given her Life Membership in the Chamber for her efforts as a Blue Coat.
Bob Eccleston gave a report on Team NB, a cycling team that promotes the City of New Braunfels and raises money to fund Multiple Sclerosis (MS) research through the annual Valero Bike MS Alamo Ride to the River. To date the team was raised $344,078, with $75,305 of that coming in 2017. The team has been in the Top 5 for three years in a row and now has 41 riders. On behalf of Bike MS, Eccleston presented the Champions Cup to the New Braunfels Chamber. The Cup is a traveling trophy presented to the team for their dedication to the goals of the National MS Society and its mission.
Jeff Jewell was awarded the sixth and final Chair of the Board Award for 2017. Anne Miller, Chair of the 175th Celebration Committee, provided an update on the plans for this milestone celebration. Miller said that a logo has been finalized and a website has been launched at www.since1845.com. She also gave reports on activities of the various committees included the Assets Committee, Events Committee, and the Historical-Legend-Lore Committee. A gateway arch is being researched as an anchor project, gateway and monuments signs are being considered, and a coffee table book with 365 days' worth of facts is already underway.