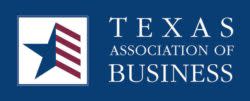 On Thursday, September 21, at 7:30 a.m. in Honors Hall, the Chamber's Business-Education Partnership and Government Affairs Committee will convene for a joint session with Chris Wallace, President of the Texas Association of Business (TAB). Wallace will provide a recap of the 85th Texas Legislative Session and Special Session recently completed. The BEP continues to ask for gently used children's books for their Kits for Kids program.
The Texas Association of Business is the state's leading employer organization. Representing companies from the largest multi-national corporations to small businesses in nearly every community of the state, TAB works to improve the Texas business climate and to help make the state's economy the strongest in the world. For more than 85 years, TAB has been on the front lines of the legislative, regulatory, and judicial battlefields, fighting for every issue that impacts business to ensure that employers' opinions are being heard.
The Business-Education Partnership Committee acts as the education advocate for the community, acting on the recommendations of the Mayor's Higher Education Task Force. The Government Affairs committee focuses on local, state and national issues that are important to business and have an impact on the local area. For more information on these committees, or any of the Chamber's committees, visit www.CommitteesInNewBraunfels.com.