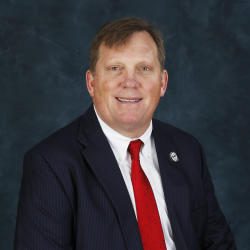 Barron Casteel was raised in New Braunfels, graduating from Canyon High School in 1989 and then from Baylor University with a Bachelor of Arts degree in 1993.
After college, Barron worked in Bamberg, Germany for a year before returning to Connecticut to attend Quinnipiac College School of Law graduating in 1998.
Following law school, Barron began practicing law with his mother and established the local law firm of Casteel and Casteel, PLLC. Barron has volunteered with YMCA of New Braunfels, Connections, New Braunfels Chamber of Commerce, New Braunfels ISD Education Foundation, the Sophienburg Museum, the Wurstfest Association, and New Braunfels Rotary Club. Barron graduated from the Leadership New Braunfels class of 2000 and served as the president of the New Braunfels Rotary Club in 2013-2014.
In 2014, Barron ran successfully for Mayor of New Braunfels and served until May of 2020. As Mayor his goals were to engage citizens, facilitate council-member's goals and to promote investments in infrastructure within our community.
Barron is married to Michele Sacco Casteel, a New Braunfels native and school counselor. Barron and Michele are the parents of two sons, Jace and Hudson.