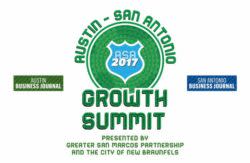 On Thursday, September 28, the Austin and San Antonio Business Journals will host the 2017 Austin-San Antonio Growth Summit at the New Braunfels Civic/Convention Center from 11:00 a.m. to 1:00 p.m. The summit will focus on the region's housing markets.
The most overvalued housing markets in America are San Antonio and Austin, according to a Forbes report by Fitch Ratings. Join leaders from the region as they tackle what this means for the region, for the corridor and for your business. Affordability issues in Austin and San Antonio and a continued influx of newcomers are making the I-35 corridor hotter than ever. The summit will explore in-depth where the growth is occurring plus the opportunities and challenges associated with this trend that shows no sign of slowing.
Sponsors for the event are the New Braunfels Economic Development Council, Texas State University, Raba Kistner Consultants, Inc., and the Greater San Marcos Partnership.