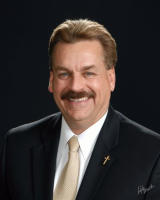 By Mark Hampton, 2014 Chair of the Board
What in the heck is SNBF?
Acronym is a word formed from the initial letters of a name. An example of this would be FYI, which means For Your Information; BFF – Best Friends Forever; TMI – Too Much Information and the list goes on. If you want a list of others, just ask your children. I am sure you will get more than you bargained for.
But one acronym you might not pick up by asking your children – SNBF. What does SNBF mean? Hold that thought and let's come back to that in a minute.
Right now, we are in what is called the "dog days of summer" or as Texans, it's August. That means summertime is winding down and the start of a new school year is just around the corner. Most of us are planning one last vacation before the kids go back to school. It also means for those families with children in school, we are receiving the school supply lists and making out those shopping lists for the new school year's clothes. Any ideas on the meaning of SNBF?  Here are some other clues.
Cities, counties and school districts receive their revenues from various sources. Most of us are aware of two primary sources – ad valorem property tax and sales tax. The complex school finance formulas aside, school districts receive a vast majority of their revenue from property taxes. Having a healthy balance of commercial property in the school districts inventory can give us a better opportunity for lower property taxes. For the New Braunfels Independent School District, 60% of the taxable inventory comes from single family residents; while 11.3% is from commercial property.
As for the City of New Braunfels, we receive 35.4% of our Total General Fund Revenue from sales tax revenue. When comparing our sales tax revenue percentage to other cities around the state, we rank high on the list. A big contributor to this factor is driven by visitors who spend their time and money in our community.
So what does this have to do with summertime, school, acronyms and taxes? And what in the heck is SNBF? It's Shop New Braunfels First (SNBF). Whether you are spending some vacation time locally or shopping locally, you help drive the local economy. You help local businesses thrive and in turn create jobs. You keep sales tax dollars in our community which comes back to the city and county. By shopping locally, you help in creating a healthy economy which attracts new businesses. This in turn increases the commercial property inventory, which helps to create a healthier balance of properties for our school districts. By shopping locally, you give us all an opportunity to have lower property taxes.
The Greater New Braunfels Chamber of Commerce continues to stress Shop New Braunfels First (SNBF) not because it is a catchy phrase. It's because shopping locally makes good common business sense. So, as you finish up your summer, keep in mind the many attractions that you have locally. As you prepare your children for school, buy those school supplies and clothes locally. By shopping locally, you can tell others SNBF.
PS (Post Script) – We all know how critical water is to sustaining life. We need rain and I am a firm believer in prayer. So, I am asking each of you that when you pray, please pray for rain.

Mark Hampton
Greater New Braunfels Chamber of Commerce
Chair of the Board