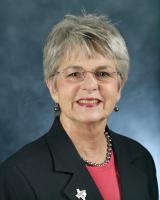 By Sandy Kibby, Chair of the Board of Directors
Of the Greater New Braunfels Chamber of Commerce
Just in case you missed it, on the front page of the July 16, 2013, edition of the New Braunfels Herald-Zeitung newspaper there was an article announcing the formation of the Hispanic Business Alliance which will appear under the Economic Development division of our organizational chart. Dr. Carlos Campos serves as the Chair and Domingo Medina of the Comal County Hispanic Council is Vice Chair, while Chamber CEO and President Michael Meek staffs the alliance. Other members include  Municipal Judge-Select Rose Zamora, Senior Citizen Center Director Robert Lopez, County Commissioner Kevin Webb, and Chamber Executive Committee members Mark Hampton of Randall Morris Realtors, Joe Castilleja of Frost Bank, and me.
The Alliance spun off from the Comal County Hispanic Council, established in June 2010, as a nonprofit to focus on bringing community awareness, involvement, and resources together to improve and support the Hispanic community. The first initiative will be assisting with the City's minority and small business lending program, an idea born from the City's Economic Development Strategic Plan. In the last quarter the Small Business Development Council (SBDC) saw 116 clients, some of whom were seeking small loans to expand or start new businesses. Because of a lack of collateral, some may be unable to obtain a loan from a local lending institution. Our first goal is to seek establishment of some mechanism to fund micro-loan requests for small and minority businesses. Cultivating and marketing to the minority populations in our community and helping them to grow their businesses just makes good cents for New Braunfels.
The Economic Development Foundation, staffed by the Chamber, held its quarterly board and membership meeting at McKenna Event Center on July 19th and heard a legislative update on the regular and special legislative sessions from our local Representatives Doug Miller and John Kuempel and Senator Donna Campbell. A written economic update told everyone of the progress over the last quarter. Companies looking to relocate to the community include multiple call centers, aviation related firms, firearms manufacturers, automotive suppliers, bakery and food distributors and more.
The bond package passed this year by the citizenry will help sustain the constant growth with upgrades to our city's infrastructure, additional education opportunities, and expansion of family recreation facilities. Plans for the expansion of Central Texas Technology Center are clipping right along and soon will become a reality. Creekside continues to explode with growth, as we witnessed when we cut a ribbon at the Mansions at Creekside Apartments. If you have not driven deep into Creekside lately, go check it out and be amazed. Thanks to the progressive management of Resolute Health and Christus Santa Rosa, we continue to see consolidation and growth in our healthcare and wellness offerings in the community. Senior living facilities are expanding and another one is breaking ground soon. The rehabilitation centers stay on the cutting edge of healthcare and put patients back on their feet and into their living and working environments right away. Continuing to sustain and develop our economy just makes good cents for New Braunfels.
Thanks to Vice Chairman Mark Hampton for being the master of ceremonies at the July Chamber mixer at the Comal County Habitat for Humanity Restore on Industrial Blvd. The crowd of 250 members saw how the Habitat building program works and met the new Executive Director Nathan Weir, who says that he plans to focus on fund-raising and advocating for more homes for Habitat recipients. Habitat Board Member John Seidel, who also co-sponsored the mixer, answered that plea by announcing that Seidel Properties plans to donate a house to Habitat to be constructed on the MorningStar Development. Wow! That is very special! Thank you, John! The Herald-Zeitung reported on Saturday, July 27th, that Comal County Habitat for Humanity bought the MorningStar 22-acre tract of land in southeast New Braunfels where Habitat will construct eighteen homes while Armadillo Builders of San Antonio plans to build on the remaining lots. Whereas Habitat used to be able to build two or three homes per year, John said that the board plans to build four houses and fund five per year. This is a fine example of how businesses sustain a rapidly growing community by giving back, and this just makes good cents for New Braunfels.
In 1974, the Braunfels Foundation Trust came into being through a gift from Braunfels, Germany, to be used to benefit the youth of New Braunfels, Texas. To raise money for the Trust, the board, staffed by the Chamber, has sponsored the Living Legends of New Braunfels and will continue to do so in October this year. This and other fund-raisers have built the fund so that last year the Trust was able to provide assistance to over a dozen high school graduates who were seeking associate degrees or certification in vocation education classes. Trade schools are very important for the development of our workforce, but very few scholarships focus on the needs of these particular students. The goal of the Trust under the new leadership of local attorney David Lamon is to award 100 scholarships per year to those students needing that "first step" toward a career. Living Legend Carroll Hoffmann has dedicated himself to this effort to improve his hometown. So, when Carroll rings you up or knocks on your door and asks you to support this effort, remember that you will be supporting the future employees of our local businesses. What a fantastic way to sustain a workforce that can give back to the community, and this just makes good cents for New Braunfels!