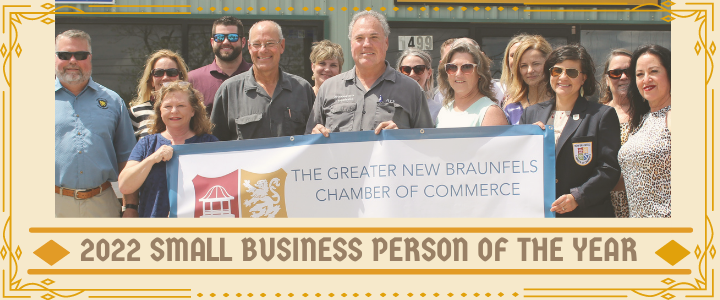 Art Brinkkoeter of Brinkkoeter's Transmissions and Lube Inc., has been selected as the 2022 Small Business Person of the Year. The announcement was made Thursday, April 28th when members of the Chamber's Small Business Week committee made a surprise visit to the Brinkkoeter's Transmissions location with the announcement.
Art Brinkkoeter opened Brinkkoeter's Transmissions and Lube in 1993 alongside his brother as co-owners, and the two have been running the business together since. 
Brinkkoeter is an active New Braunfels community member; serving on the Transportation and Traffic Advisory Board for the City of New Braunfels for nearly two decades, served as Vice President of the Citizens Sheriff Academy Alumni of Comal County, has been a Chamber Blue Coat since 2015, and earned his Chamber Life Membership in 2017. 
Since 1990, the Small Business Person of the Year award has recognized the outstanding contributions of small business people to the economy and overall progress of the New Braunfels trade area. To be eligible for nomination, the business person must be a member of the Greater New Braunfels Chamber of Commerce, own their business, exhibit community involvement, and employ less than 50 employees, all for the last five years.
Small Business Week will be celebrated locally and nationally May 1st through May 7th. During the week the public will be encouraged to shop local and use #ShopSmallNBTX on social media to show their support. Brinkkoeter will be recognized as the 2022 Small Business Person of the Year through proclamations made by the New Braunfels City Council and the Comal County Commissioners Court.
If your business is interested in sponsoring the Small Business Person of the Year program and reception, please contact Alex Meade at alexandra@innewbraunfels.com.
2022 Small Business Person of the Year