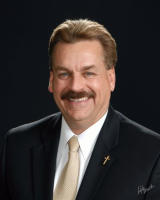 By Mark Hampton, 2014 Chair of the Board
April showers bring May flowers. At least that is how the saying goes. And right now, many of us are focusing on those showers and when we might see them. But in all seriousness, water is a necessity and right now we are experiencing one of Texas' worst droughts since the drought of the 1950's (which is considered the "drought of record"). If you attended the 48th edition of the Texas Legislative Conference hosted by the Greater New Braunfels Chamber of Commerce, Inc. on March 28th, you heard panelist State Senator Troy Fraser discuss this very topic.
The 83rd Legislature passed numerous bills addressing water conservation, management strategies and planning. Probably the most significant bill passed and approved by voters in November was HB 4 (Prop 6). This bill allocates $2 billion toward a new State Water Implementation Fund (SWIFT) for Texas. SWIFT will be used to fund water related projects, infrastructure and conservation projects with loans.
The constitutional amendment (Prop 6) approved by voters allows use of the state's "rainy day fund" or surplus to leverage into water projects across the state.  Your Chamber Board at their annual board planning retreat voted to form a water quantity task force under the Natural Resources Committee to ensure that New Braunfels gets its fair share of these funds.   We'll be working with local water purveyors this year to help educate the community about the importance of seeking more water.
Senator Fraser also talked about the need for additional water resources considering the continued growth and demand. Some of these considerations are the use of brackish water, desalination plants and utilizing aquifers to store supplies. NBU is being pro-active with Aquifer Recovery Systems (ARS) to enable our community to benefit for larger and more affordable water supplies, especially in times of drought.
Texas is currently growing by approximately 1,000 people a day. In addition to water being an immediate concern, we all see the increase demand on our transportation infrastructure. State Senator Robert Nichols discussed the status of our current transportation infrastructure and the challenges with funding this infrastructure. A key component in taking a proactive approach to this need will be put before the voters this November. This vote will provide additional funding that is critically needed for our state.
Why is this action needed you may wonder?  There are basically three funding sources of our roads statewide: state and federal gasoline taxes and registration fees.  There have not been any increases in the gasoline tax in decades; cars are more fuel efficient and registration fees have not been increased. Combine these factors with inflation and the end result is our revenue/funds are limited to maintenance and upkeep.
While listening to Senator Fraser and Senator Nichols, you couldn't help but pick up on the fact that our state legislature took a very proactive approach in addressing these critical needs for our state's economic future. This took teamwork in passing and it took teamwork to inform the voters on the importance of this legislation.
Your Chamber of Commerce brings the Texas Legislative Conference to New Braunfels every year. This successful event occurs because of the teamwork from members of our Chamber of Commerce, business leaders around the state, and from state and local government officials. It is TEAMWORK TODAY THAT DETERMINES SUCCESS TOMORROW.
GNBCC Economic Weather Update
Ribbon Cuttings to date 2014 – 20
Unemployment rate
Locally 4.3%
State 6.4%
National 6.7%
Local Sales Tax Revenue  City Fiscal YTD (5 months)
Current $10,779,657
Previous Year $9,592,817
Forecast is bright, sunny and positive!