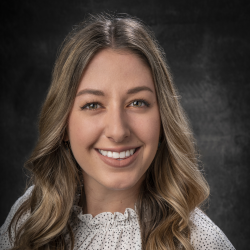 Alyssa Coker serves as the Vice President of Advocacy & Outreach at the Greater New Braunfels Chamber of Commerce. Her position is responsible for the Government Affairs Committee, Military Affairs Committee, Hispanic Business Alliance, Women's Business Alliance, Retirees are Progressive Council, the Texas Legislative Conference, and communications and marketing. In addition, Alyssa serves as the liaison to the New Braunfels Jaycees.

Alyssa grew up in New Braunfels, Texas and is a graduate of Canyon High School where she met her now husband John Wylie Coker. She attended the University of North Texas in Denton, receiving her Bachelor of Business Administration in Marketing.

She began her career with Stitch Fix, a personal styling service, where she worked in social media marketing. She then joined the Communications Department at the Comal Independent School District, serving in that role for three years before coming to the New Braunfels Chamber in April of 2020.

Alyssa and her husband have been back in New Braunfels for six years now and enjoy living the good life New Braunfels has to offer. She and her husband love playing board games with friends, trying new foods and spending their free time hoping around local businesses. 
 
Fun Facts:

What is your favorite ice cream? It totally depends on the location/brand...Bluebell: Chocolate Chip Cookie Dough Jeni's Splendid: Brambleberry Crisp Marble Slab: sweet cream with raspberries, caramel and almond slivers
What is your favorite holiday? Easter has very recently become my favorite, for many reasons. I used to say Christmas, but I more so love the "season" of Christmas than the actual day. 
If you could go on a free vacation, where would you go? No doubts my free vacation would be cashed in on a trip to Bora Bora. I would love to stay in one of those incredible bungalows on the water at the Four Seasons Resort.