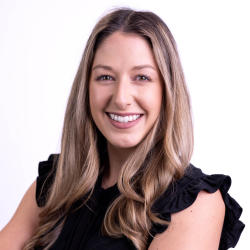 Alyssa Coker serves as the Vice President of Communications & Government Relations for the New Braunfels Chamber. Her position is responsible for the Government Affairs Committee, Military Affairs Committee, Hispanic Business Alliance, Women's Business Alliance, Retirees are Progressive Council, the Texas Legislative Conference, and communications and marketing. 

Alyssa grew up in New Braunfels, Texas and is a graduate of Canyon High School where she met her now husband John Wylie Coker. She attended the University of North Texas in Denton, receiving her Bachelor of Business Administration in Marketing.

She began her career with Stitch Fix, a personal styling service, where she worked in social media marketing. She then joined the Communications Department at the Comal Independent School District, serving in that role for three years before coming to the Chamber in April of 2020.

Alyssa and her husband have been back in New Braunfels together since 2015 and enjoy living the good life NBTX has to offer. She and her husband love playing board games with friends, trying new foods, and hoping around local businesses. You'll likely find them in Gruene or Downtown with their son (born May 2022), Wesley Rivers, in tow.