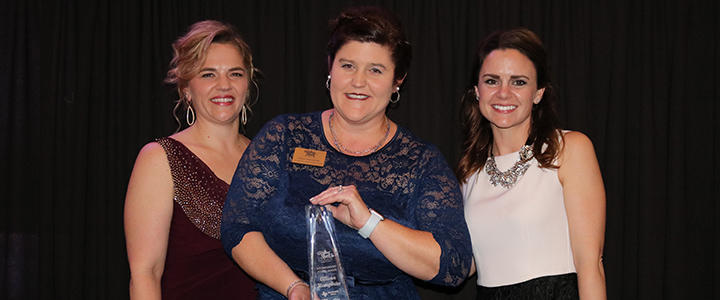 At Friday's Rising Stars of New Braunfels Gala, Allison Humphries was honored with the 2018 Distinguished Young Leader Award. The gala celebrated 20 individuals under the age of 40 who were named the 2018 class of Rising Stars of New Braunfels. The awards program and gala were hosted by the Greater New Braunfels Chamber of Commerce, the New Braunfels Jaycees, and the New Braunfels Herald-Zeitung.
The Rising Stars were selected out of 99 qualified applications that were received. To be considered for the award, the individual must be under the age of 40, live or work in New Braunfels, and have made significant contributions to the community through continued success in their professional or community service activities.
The 2018 Distinguished Young Leader Award was a special honor that was meant to recognize one of the Rising Stars for standing out above the crowd for their significant accomplishments in their career and meaningful contributions to our community. The recipient is the epitome of a Rising Star, servant leader, and role model. The recipient of the award was kept confidential until the announcement during the gala which was made by 2017 Rising Star and Distinguished Young Leader Award recipient Alice Jewell.
Humphries is a Property Manager with Rodgers Commercial Realty, LLC and involved in a plethora of volunteer organizations. She is currently the Events Chair for New Braunfels' 175th Anniversary Celebration, a Chamber of Commerce Blue Coat and Life Member, a Braunfels Foundation Trust Baroness, and served as the President of the Jaycees in 2003 and 2004. She is also involved with her church, the Chamber's Business Trade Show, Weihnachtsmarkt, Connections, and is a graduate of Leadership New Braunfels. She is a dedicated wife and mother, raising her family in the community she grew up in.