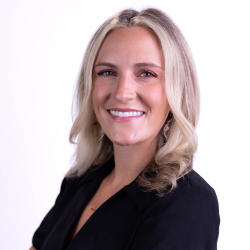 Alexandra (Alex) Meade serves as Chief of Staff at the Greater New Braunfels Chamber of Commerce.
Alex grew up in Southeast Texas and first ventured to this area to attend Texas State University where she received her Bachelor of Arts in Communication Studies. Interpersonal and Organizational Communication, as well as Relationship Management are among Alex's areas of communication expertise. 
After receiving her undergraduate degree, Alex began a career in Marketing on the West Coast with Los Angeles-based private money lender, Civic Financial Services. While immersed in the working world, Alex developed a passion for leading within the workplace and the community.  Driven by that passion, she decided to further her education and dive deeper into leadership as an area of study. In May of 2021, Alex graduated from Liberty University's A.W. and Lois Overton Graduate School of Business with a Master of Arts in Executive Leadership. 
Following graduate school, Alex was eager to get back to her favorite part of Texas, so she returned to the Hill Country and joined the Greater New Braunfels Chamber of Commerce team in September 2021. 
For fun, Alex loves to be outdoors, find new tasty "foodie" spots, and spend time with family, friends, and her English bulldog Bentley.