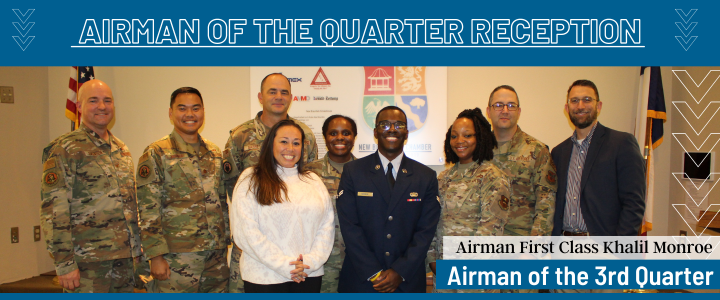 The Military Affairs Committee recognized the Airman of the Third Quarter from Joint Base San Antonio Randolph at the November 15th Reception in Honors Hall. The awardee was announced as Airman 1st Class Khalil Monroe, Personnel Apprentice at Headquarters Air Education Training Command.
Having only been in the military for one year, A1C Khalil Monroe has demonstrated outstanding work ethic and dedication to this nation. He has achieved multiple accomplishments during this time, including: being named Diamond Sharp of the Month, Top 3 Junior Enlisted Superior Performer of the Month, serving as AETC A1 Council booster club president as well as Randolph Dorm Council President, and more. 
A1C Monroe was given a gift basket filled-to-the-brim with donations made by New Braunfels businesses and individuals as a signal of support and appreciation for the work that he has conducted during his time in the military and was presented with a Key to the City by Mayor Rusty Brockman. In addition to these prizes, this distinguished Airman received the title "A Prince of the City of a Prince" presented by Chair of the Board, Ian Taylor.
With goals of completing his master's in strategic communication and commissioning as an Officer, A1C Monroe has a bright future ahead of himself.
Military Affairs Receptions are hosted each quarter, honoring the Airman of the Quarter, and annually, the Airman of the Year from Joint Base San Antonio - Randolph. The purpose of the Chamber's Military Affairs Committee is to enhance relationships between the New Braunfels community and the military, particularly those Airmen stationed at JBSA - Randolph. If you are a Chamber member and would like to join the Military Affairs Committee, please fill out our committee preference form here.