Today's Chamber Board of Directors meeting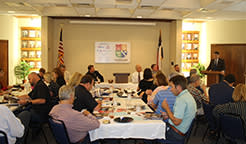 focused on advocacy but also featured an employee tenure milestone, the introduction of a new employee, and a Chair of the Board Award. Laurie Wehring, Vice President of Leadership and Small Business was recognized for a five-year tenure, Laurel Davies, Program Coordinator, hired on July 9, was introduced to the Board, and Jan Kingsbury received the Chair of the Board Award in the field of Tourism Development.
Chamber Vice President of Advocacy & Outreach Jenna Vinson distributed the 2019 Legislative Agenda Review. Prior to the 86th Legislative Session, the Chamber published a list of Top 10 Legislative Priorities. These priorities were developed from surveying Chamber members and hearing presentations from many state agencies. Through the session staff tracked bills that could impact those priorities and when the session was concluded in May, the review was created to gauge success. Overall, the session was successful for the Chamber with the passage of some very important bills for our community. Read the full review here.
Johnathan Huhn, South Central Regional Director for U.S. Senator John Cornyn provided a federal legislative update. He started by saying that his office and the Senator are tracking the issues with Lake Dunlap and the drawdown of the Guadalupe Valley lakes. He reported that Sen. Cornyn passed the second most legislation during the last congressional session and has been working on major issues such as USMCA, prescription drug prices, gun safety and immigration reform.
Congress is currently on recess but upon return in September, there will be a big push to pass the United States-Mexico-Canada Agreement, which will replace NAFTA. Passage could come as early as the end of the year and it was recently passed in Mexico. The Senator is also working on ways to prevent mass shootings and this issue will be a priority in September along with immigration reform.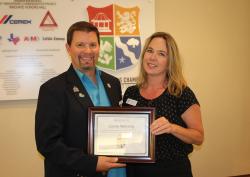 Laurie Wehring, VP of Leadership and Small Business, 5 Years