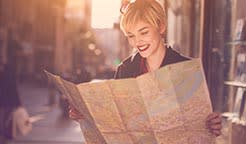 Chamber members should have received letters regarding exclusive advertising opportunities on the new Official City/County Map for 2018/2019. This map is the only official map published by the Chamber and offered to the public at both the Chamber Office and the New Braunfels Highway Visitor Center, which welcomes more than 10,000 visitors each year.
Thousands of full-color printed maps will be distributed through high traffic locations in the New Braunfels area, and there will be an interactive online map visibly posted on the Chamber's website. Furthermore, the online map will feature analytics so that advertisers can track their return on investment. The Chamber will also hand out an additional 10,000 tear-off maps to local hotels and tourism centers.
If you would like to take advantage of this great opportunity and advertise your business on the new map, please contact Val Preusser at the New Braunfels Highway Visitor Center at (830) 625-7973 or email val@innewbraunfels.com.