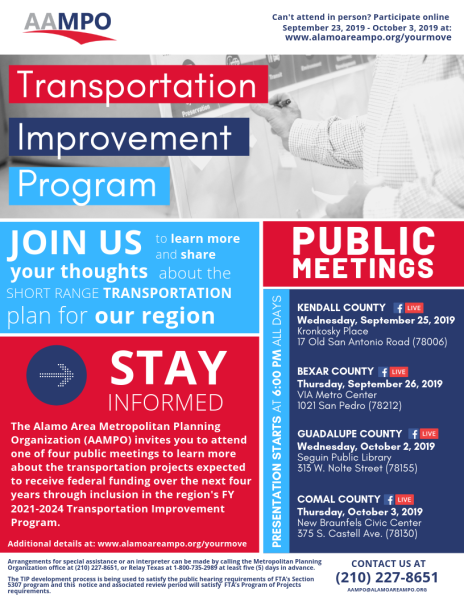 The Alamo Area Metropolitan Planning Organization's (MPO) draft FY 2021-2024 Transportation Improvement Program (TIP) proposes more than $1 billion in federal, state and local funding for transportation projects in Bexar, Comal, Guadalupe and Kendall Counties over the next four years.
The TIP, a list of multimodal transportation projects, outlines how transportation revenues will be invested by state and local agencies. Funded projects will maintain, operate and/or expand roadway, public transportation, bicycle, pedestrian and rideshare options.
Attend one of four public meetings throughout the region to learn about the projects that are proposed for funding over the next four years. Each meeting will also be broadcast via Facebook Live. If you are unable to attend in person please visit www.alamoareampo.org/YourMove on Monday, September 23, through Thursday, October 3, 2019.
Whether you participate online or in person, the MPO wants to hear your ideas about traffic safety, congestion and other transportation issues. Share where and when you experience the worst traffic congestion; where attention to roadway safety issues is needed; and suggestions for improved bicycling, walking and public transportation. Input will be shared with local and state transportation agencies and the MPO's Transportation Policy Board to inform future investments.
Presentations start at 6:00 p.m. at all locations:
Guadalupe County – Wednesday, October 2 at the Seguin Public Library (313 W. Nolte St.)
Comal County – Thursday, October 3 at the New Braunfels Civic Center (375 S. Castell Ave.)