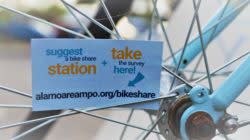 The Alamo Area Metropolitan Planning Organization (AAMPO) has launched an online survey in support of a regional Bike Share Master Plan. The poll is available through Thursday, November 30, 2017, at: www.alamoareampo.org/BikeShare.
San Antonio became the first city in Texas to have a bike share system in 2011. It began with 14 stations and 140 bikes. Today, it has over 60 stations and 500 bikes. The AAMPO is currently working on the Bike Share Master Plan. This study will look at potential expansion of the bike share system in Bexar County. It will also look at the possibility of creating a bike share program in Comal, Guadalupe, and Kendall Counties. The plan is expected to be completed by spring 2018.
Part of the study includes looking at which existing bike share stations are successful. This allows the AAMPO team to identify common characteristics from those stations (such as population density and nearby attractions) to predict where new stations might be appropriate. The AAMPO team will also be looking at where people are traveling to and from to understand where new stations might be needed. Researching what has worked in other communities will be another important piece of the study.
Public input is very important. The public is encouraged to take the survey at www.alamoareampo.org/bikeshare.