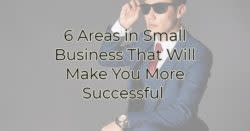 In business, recognizing what trends are on the horizon is as important as handling the issues in front of you at the time. You must do both. But who has time to run a growing business and be looking for what's to come and how to meet it before it gets here?
It's a delicate balance to be sure. That's why we've created a list of things you need to be thinking of in your small business to ensure success this year and those after it.
1. New Tax Laws
2018 ushers in a lot of new tax changes for many small businesses. The biggest of which is the larger standard deduction. The standard deduction rose from $6,350 for the 2017 tax year to $12,000 in 2018 for individuals, and $12,700 to $24,000 for couples. It's possible that in 2018, you no longer will itemize. Consult with a tax professional early this year so you know how these changes will affect you and your business.
2. Increased Awareness of Harassment
Today, people are increasingly aware of what constitutes inappropriate behavior at the workplace and they have a voice to express it. Even shades of gray in this area are to be avoided. It may be of benefit to review exit interviews and assess your risk in this department. It can be a very costly oversight if something is occurring that you don't know about or haven't addressed in your business.
3. Desire for Different Voices to Be Heard
There's a growing push in Hollywood and beyond to bring a variety of voices and skills to the table. For instance, people like Meryl Streep are funding projects focused on helping women screenwriters over 40 break into the business. This concept will likely influence how your business is seen as well. Are you making room for everyone at the table? If not, you may want to consider ways in which more generations, genders, and ethnicities play a role in your business. This may even open a new market for you.
4. Search Becomes Voice-Activated
Artificial intelligence assistants like Siri, Alexa, Google, and Cortana have become a regular part of your customers' lives. Typing questions is quickly becoming so 2017. An innovative business will be addressing this trend and trying to place in search for top questions in the way they'd be asked by prospective customers. Keywords are less the point than key phrases.
You may also want to think about ways to work with the digital world by creating opportunities for voice ordering and other conveniences that are quickly becoming part of daily life. Your customers want what Amazon is offering and you'll need to find a way to make their experience seamless on a smaller scale.
5. Leveraging Text and Messenger
Texts have a 98% open rate, far better than email. However, as this is being touted as a great way to connect your business with your customers, know you're not the only one trying it. As texts become a business battleground, people may start ignoring them as well. Consider options as to how you will stand out and what offers can set you apart.
Facebook Messenger, like text, has a high open rate. How can you ignore those silly circles that pop up on your phone and block screen space? You can bet Facebook will find ways to monetize this offering further. Read up on this feature now and know its limitations. Enable it on your Facebook page so that people can reach your business when it's convenient for them.
6. Cybersecurity Can't Be Ignored
While many small businesses don't see themselves as targets, 43% of them have been affected and we're rapidly moving towards the 50% mark. Don't allow cybersecurity to destroy everything you've worked for. Even if the attack itself doesn't destroy your data, your reputation as someone who protects delicate information can be irreparably damaged. Make this the year you start thinking seriously about security and implementing some needed protocols.
These trends are not far out on the horizon. Most of them are already here but you may not have begun thinking about them or they may not have touched your business yet. But with all of them, there are bigger issues involved. You won't address them simply by clicking on a feature. There's a lot more to developing a strategy around them.
Plus, there are always additional things on the horizon while you're busy addressing the ones immediately in front of you. Your local chamber can help you interpret the trends as they apply to your community. No one is better suited to speak to the microcosm and needs of the locals you serve. They can help you look at these larger trends and evaluate the extent to which they will matter to your local business.