This content is provided by Connally Plumbing, a plumbing company serving New Braunfels, San Marcos, and surrounding areas, and a member of the New Braunfels Chamber since 2016.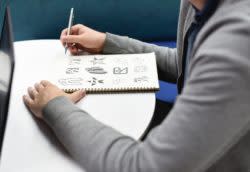 You're running a business, providing exceptional customer service, and trying to manage multiple social media accounts. As a business owner, you have a lot on your plate, and branding your business might not be your top priority.
Here's why it should be.
Your brand is the visual representation of your company.
Your brand is the first impression that people see of your business. Your logo speaks volumes, the colors in your logo say something about who you are, and the font you use sends a message to clients. It is vital that all of these elements are communicating what you want to communicate to people.
When you don't make your brand a priority, you risk sending the wrong message to potential clients. Take the time to build a strong brand that represents your company well.
Your brand will attract or detract clients.
Your overall brand (or lack of) will bring in or push away clients. Whether it's your logo, website, or business card, potential clients will see your brand in some form when they first interact with you. If your website is busy or not user-friendly, those clients will likely walk away. If your business card features completely different colors than your website, they'll wonder if they came to the right site. People value consistency, and a consistent brand will earn their trust.
Take your brand seriously and keep it consistent throughout your various platforms and mediums, from social media accounts to business cards. Know your audience, know what attracts them, and build your brand to best suit their needs.
Your competitors do.
Your competitors are spending time and money to make sure their brands are consistent and effective. And if they're not, then you're lucky. You can't afford to lose clients to competitors simply because your brand isn't as strong theirs. It is worth the investment up front to establish a brand that engages the people you want to reach. A cohesive brand now will save you time, money, and headache down the road.
Does your brand need a little work? Make it priority to clean up your website, refresh your logo (or get a logo!), and make all the elements of your company flow.
A strong brand goes a long way.