This content is provided by Connally Plumbing, a plumbing company serving New Braunfels, San Marcos, and surrounding areas, and a member of the New Braunfels Chamber since 2016.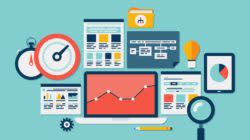 You already know that graphics are extremely important in today's digital age. Your company is marketing to users who don't want to read pages (or even paragraphs) of text to find what they need…and especially what they don't need. Maybe you're trying to create a successful Instagram account but don't have compelling images to regularly share, or maybe you're trying to showcase your content in a way that better engages users.
Either way, if you don't have an on-site graphic designer and it's not in your budget to hire one, consider using one of these three platforms to make stunning images and infographics to better reach your audience.
Canva
Canva is a fantastic tool for turning any kind of text into a graphic. There are seemingly endless combinations of colors, texts, and images you can use to create a visually-appealing image to engage your users. This resource is great for creating text-based graphics to share on social media.
Canva offers pre-made designs that you can customize to fit your company's brand, and they make it even easier for you by breaking the designs into different categories: social media, business cards, certificates, specific platform headers, and many, many, more. You can also start from scratch if you already have an idea in mind.
Piktochart
This is the tool to use if you want to create an infographic of any kind. (You can also use it to create posters and other graphics.)
Putting information into an infographic makes reading a lot of facts or statistics much more enjoyable. Consider the image below from one of Piktograph's tutorials. The infographic on the right is much more appealing than the text-heavy document on the left.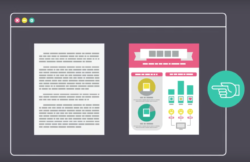 Create an infographic to sum up your company's performance over the year, rather than putting together a text-heavy report that no one really wants to read. Your employees are likely to remember bold images over pages of text.
You can also use an infographic to show potential users what your company has to offer. Show them how you stand out above the crowd, how you are better than other companies in your industry. Give them evidence that you are the best at what you do. Not only will you be providing them with valuable information, but you will be entertaining them along the way.
Go here for infographic inspiration.
Vectr
Out of the resources listed in this article, Vectr is most for the creatives out there. Vectr could be compared to Adobe Illustrator. If that excites you, keep reading. If you've never heard of that, stick with the first two tools.
You have a lot of control on Vectr to actually draw images, rather than use pre-existing shapes, although you can use those too! This tool has no templates to follow, so it really is for those who are willing to take the time to create something from scratch. If you need to create a graphic that is not text-based, this is the perfect tool.