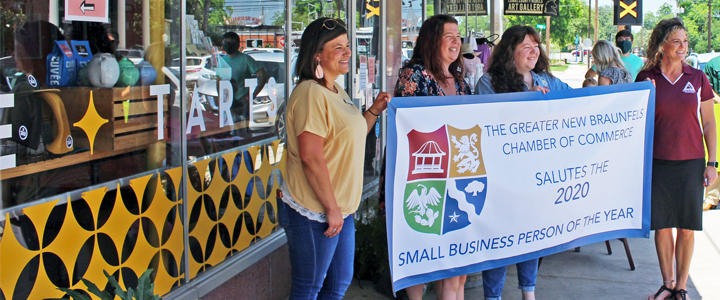 April Ryan and Ashley Landerman, owners of 2tarts Bakery, have been selected as the 2020 Small Business Persons of the Year. The announcement was made Wednesday, May 20 when members of the Chamber's Executive and Small Business Week committees made a surprise visit, including a car parade, with the announcement of the Award.
In 2009, Ryan and Landerman started 2tarts in a rented kitchen. They began crafting their business plan with the help of the local Small Business Development Center (SBDC) office, refined their menu and started looking for a permanent home. After finding a location, they renovated the space in three short months and officially opened their store front on North Castell Avenue in 2010.
"I believe 2tarts has been successful for two main reasons. One, we understood how important community is here in New Braunfels, and quickly got involved with community organizations," said Ryan. "Two, we adapted. When 2tarts opened, specialty cupcake shops were very popular. The market slowly evolved, and customers were asking for custom cakes and wedding cakes. We spent time learning new techniques to give our customers what they wanted. We listen to every customer's feedback to make sure that we're staying on top of dietary trends and specialty items that our customers can only get here at the bakery".  
Ryan and Landerman have made it a priority to be involved in the community. They are committed members of the Greater New Braunfels Chamber of Commerce, the Downtown Association and the Wein & Saengerfest Planning committee. The two also donate $10,000 annually to local non-profits.
The two sisters have been recognized on a national level as well as locally. Landerman has represented 2tarts on a panel of bakers from all over the nation and was named the winner of the Food Network Christmas Cookie Challenge in 2019. Ryan's passion for weddings and detail has landed 2tarts in many features on national blogs and magazines. 
Since 1990, the Small Business Person of the Year award has recognized the outstanding contributions of small business people to the economy and overall progress of the New Braunfels trade area. To be eligible for nomination, the business person must be a member of the Greater New Braunfels Chamber of Commerce, own their business, exhibit community involvement, and employ less than 50 employees, all for the last five years.
Ryan and Landerman will be recognized as the 2020 Small Business Persons of the Year through proclamations made by the New Braunfels City Council during the May 26 City Council Meeting and by the Comal County Commissioners Court.