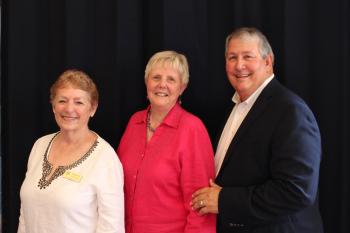 The 2nd Annual Braunfels Foundation Trust Celebration Luncheon is set for next Monday, October 2 at the McKenna Event Center. The event will honor the 2017 Class of Living Legends of New Braunfels: Marian Benson, Doug Miller and Bette Spain. Registration and networking is from 11:30 a.m. to 12:00 p.m. with the buffet lunch opening at noon.
Others to be celebrated will be the Braunfels Foundation Award winners, the 2017 Scholarship recipients, the Barons and Baronesses of the Trust, the Trust Builders and Scholarship Sponsors, and Communities In Schools of South Central Texas, who offices in the Hinman House courtesy of the Trust. There will be a presentation program honoring the Living Legends of New Braunfels, a raffle and a slideshow highlighting the past year.
Attendees can purchase raffle tickets for $10 each or three for $20. Two raffle items will be drawn at 1:00 p.m. when the luncheon program concludes. New Braunfels Police Department's David Ferguson will be the Master of Ceremony, to be assisted by Trust President Carroll Hoffmann and State Rep. John Kuempel.
The event is a sold out as of press time. For more information, contact Debbie Meek at bftdebbie@outlook.com or (830) 708-2906.