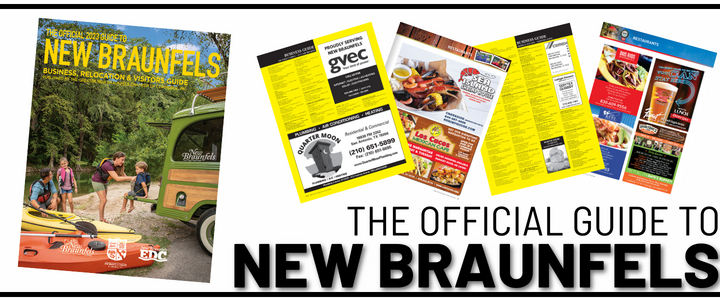 YOU DON'T WANT TO MISS OUT ON THIS INCREDIBLE ADVERTISING OPPORTUNITY!

Each year the Greater New Braunfels Chamber of Commerce produces a full-color, beautiful magazine that provides business, visitor, and relocation information for residents, newcomers, and tourists. This award-winning magazine has a targeted circulation of over 15,000 and a shelf life of 1 year. 
For a nominal cost, your company can be featured in this professional magazine that can help market your business to a large group of potential customers. 
Please take a moment to ensure your business information is updated with your Membership. A few things that may need a review include: 
Email Address
Website
Mailing Address
Physical Address
Business Representatives 
Please email Phyllis@InNewBraunfels.com to update your business information.
Want your business featured in the 2024 Official Guide to New Braunfels? Contact Ginger Doherty by email at ginger.a.doherty@gmail.com or download the Advertising Request Form and return it to the Chamber by fax or mail. 
Click here to download the 2024 Advertising Request >

Click here to view the 2023 Official Guide to New Braunfels >