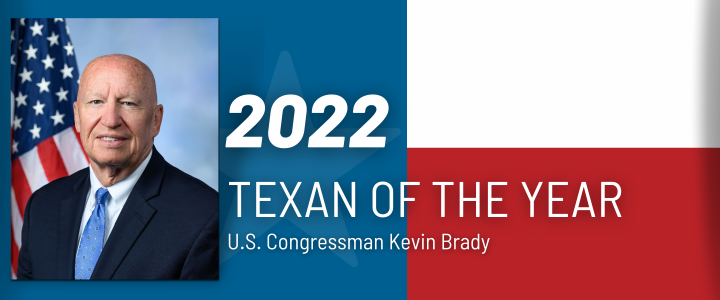 Kevin Brady was recognized as the 2022 Texan of the Year at the 56th Annual Texas Legislative Conference on March 24th, 2022. The Texas Legislative Conference is a non-partisan annual assembly of Texas business and political leaders who gather in New Braunfels to facilitate a statewide discussion on the issues affecting our state. It is a two-day event that honors individuals whose impact has changed the face of public affairs in Texas and provides the opportunity to hear elected officials and subject matter experts offer their insights.
Brady is a pro-family, pro-business conservative who proudly represents the Eighth Congressional District of Texas. Kevin is only the third Texan in history to lead the powerful House Ways & Means Committee – considered to be the most influential committee in Congress – with control over taxes, international trade, health care, Medicare, Social Security and welfare. He currently serves at the top Republican on the Committee.
"This legislative conference is iconic in Texas. It's where people who want to find solutions come together and have for more than half a century. For our state especially, the Texas Legislative Conference plays a huge role, which is another reason I'm honored to be Texan of the Year for 2022," said Brady.
Brady led the effort to pass the historic Tax Cuts and Job Act, the first comprehensive overhaul of America's tax system in more than 30 years. Additionally, he has helped secure passage of 13 of America's 15 free trade agreements, negotiated an end to the 40-year ban on selling U.S. crude oil overseas, eliminated the ObamaCare individual mandate and more. 
Prior to his election, Congressman Brady worked as a chamber of commerce executive for 18 years, serving six years in the Texas House of Representatives during that time. Today, Brady lives in The Woodlands with his wife and two sons, commuting from Texas to Washington for his congressional duties.