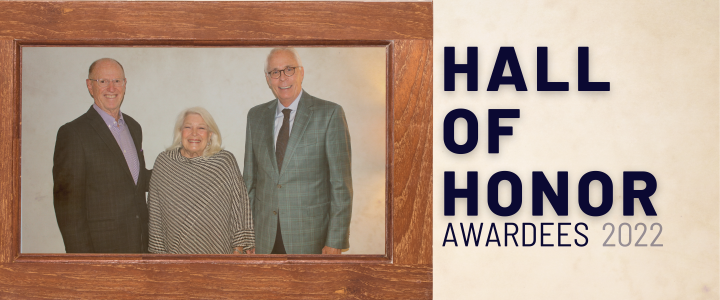 Three Hall of Honor Awardees for 2022 were recognized at the recent December Chamber Board retreat. The Hall of Honor Award was created to honor those individuals who have participated in civic activities over many years, and offers a lasting significance as it provides recognition for voluntary efforts benefiting the community through a permanent exhibit of the recipient's photograph in Honors Hall, located at 390 S. Seguin Ave.
Congratulations to the 2022 Hall of Honor Awardees:
Cecil Eager
Cecil Eager moved to New Braunfels in 1996 to serve as President of the Center for Christian Growth, better known as T Bar M Sports Camps and T Bar M Hotel and Conference Center. In June 2000, Eager and his wife, Judi, bought the Gruene Mansion Inn and was named Small Business of the Year in 2008 by the Chamber. Eager served on the Chamber of Commerce Board of Directors from 2006 to 2009 and served on the Convention and Visitors Steering and Strategy Committee for 13 years and was Chair of that Committee for three years. He has been on various Community Advisory Panels for the hiring of the Chief of Police and Fire Chief.
Anna Lee Hicks
Anna Lee Hicks has been a New Braunfels resident since 1979, raising two NBHS Unicorn graduates. Anna Lee Hicks has served in many volunteering efforts throughout the years; from serving on the City's Wassailfest Originating Committee to being a member of the Historic Outdoor Art Gallery Board, the Brauntex Theatre of Performing Arts Board, and serving as various Chair positions for the Heritage Exhibit. She was the first-year facilitator for the Glowfest Hot Air Balloon Festival. For the Sophienburg Museum and Archives, she served as President of the Board and Marketing Director. Additionally, she facilitated or chaired the Dittlinger Library building acquisition from the City of NB, Annual 4th of July Parade, and Weihnactsmarkt.
Ray Still
Pastor Ray Still has served at Oakwood Baptist Church for nearly 30 years, where he has established a counseling center that handles over 3,000 sessions annually to the Oakwood, New Braunfels, and surrounding communities. Every year, Still hosts Oakwood's Heart of Hope Christmas program provides families in our community with dinner, coats, bags of groceries, and gifts for the kids. He has been a Trustee on the McKenna Hospital Board and was a founding member of the McKenna Foundation Trust. Still served on the boards of Christus Santa Rosa Systems, Howard Payne University, New Braunfels Christian Ministries, and Houston Baptist University. In 2008, he led the effort to establish New Braunfels Christian Ministries and its Volunteers in Medicine Clinic. In 2018, Ray Still received the Baptist Health Foundation of San Antonio Spirit of Health Award for his leadership efforts in healthy meals being provided to more than 250 under-resourced elementary-aged students through the Kids' Club program.
Please join us in honoring the above awardees with further recognition at the 104th Annual Banquet, which will take place at the New Braunfels Civic/Convention Center on January 27th, 2023.