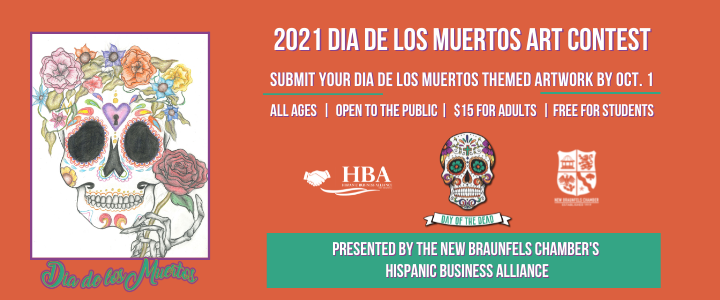 The Hispanic Business Alliance has opened their annual art contest to the public again this year to increase participation in the event. The contest is to help promote the meaning and celebration of the Dia de los Muertos holiday. All art submissions must represent the unique style and imagery of HBA's Dia de los Muertos event, emanating the excitement and spirit of Hispanic traditions.
Deadline to submit artwork is Friday, October 1 at 4:00 p.m. Email chelsea@innewbraunfels.com for more information.

View the contest rules HERE >
The New Braunfels Hispanic Business Alliance is a committee of the New Braunfels Chamber working to promote, advocate, and educate the Hispanic community with the goal of improving opportunities for success. The Hispanic Business Alliance supports and encourages Hispanic participation in the New Braunfels business community.
For more updates follow the New Braunfels Hispanic Buisness Alliance on Facebook >