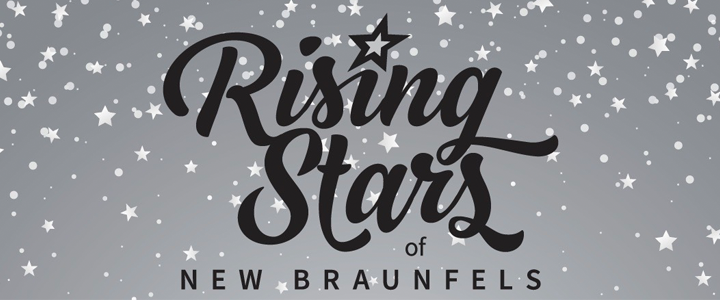 The New Braunfels Jaycees, Greater New Braunfels Chamber of Commerce, and New Braunfels Herald-Zeitung are proud to announce the 20 winners of the 2020 Rising Stars of New Braunfels Award. These outstanding young leaders are being recognized for making significant contributions to the community through their professional activities and civic engagement.
•           Marianne Brockman, 33, Comal ISD – Bill Brown Elementary
•           Patrick Carreon, 26, DOCUmation
•           Justin Friesenhann, 38, T and F Construction Co. 
•           Stephen Ganske, 38, Moore Ganske Murr PLLC
•           Jennifer Graham, 31, ADKF
•           Holly Hayes, 36, Bobcat Trucking, Inc.
•           Vanessa Hayes, 36, The Blake New Braunfels
•           Kristen Hoyt, 32, Self Employed, Corner Tubes
•           Manijeh Huereca, 37, Manijeh Huereca with Vista Realty
•           Kathryn Lacy, 29, Deborah Linnartz Wigington & Associates, PLLC / Lovorn & Ogle
•           Ashley Landerman, 35, 2tarts Bakery
•           Gina Littrell, 38, New Braunfels Regional Rehabilitation Hospital
•           Nathan Page, 34, Smokey Mos BBQ
•           Clark Pantel, 29, Edward Jones Investments
•           Katharina Eileen Perez, 33, Hair by Eileen
•           Colton Read, 32, Gruene Shredding
•           April Rodgers, 39, CBRE
•           Sandra Stolte, 37, Farmers Insurance, JP Kesselring Agency
•           Lauren Strack, 35, Headwaters at the Comal/New Braunfels Utilities
•           Reyes Villarreal, 29, New Braunfels Professional Firefighters Association
This award honors 20 individuals under the age of 40 who are excelling in their careers, bettering New Braunfels through volunteerism, and poised to be our community's next generation of great leaders. The Rising Stars will be celebrated at a formal Gala on Friday, January 15, 2021 at 6:00 p.m. at Old Mill Resort & Events Center. The event will include a cocktail hour, served dinner, presentation of awards to honorees and the announcement of the 2020 Distinguished Young Leader Award.
"We had a great group of applicants and are very proud of this year's award recipients," said Matt Smith, Jaycees President. "These 20 Rising Stars demonstrate leadership and strong involvement in our community, making New Braunfels a better place to live."
Lindsay Haas, the winner of the 2019 Distinguished Young Leader Award, will make the announcement of this year's winner. The name of the winner is kept confidential until the announcement that night. The Distinguished Young Leader is selected from the Rising Stars awardees as someone who stands out from the crowd and deserves special recognition for their many contributions to the community.
The winners were selected by a committee made up of New Braunfels Jaycees alumni and representatives from the Chamber of Commerce and Herald-Zeitung. Tickets and sponsorships for the Gala will be available to the public beginning November 29, 2020.
For more information on this event visit www.RisingStarsNB.com.