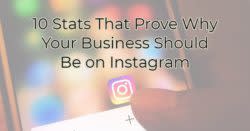 First, a moment of honesty so you don't think I'm just pushing my favorite site.
I don't like Instagram. I think in words, not pictures.
Alas, I am not your customer.
Your customer (statistically speaking) likes images and video. While that's reason alone you should be on the popular site, if you're still in denial, here are ten stats that will help you understand it's one of the most important things you can be doing for your marketing and your business' growth.
10 Instagram Stats That Prove Why Your Business Should Be on Instagram
300 million* daily users. Yes, that's daily and they're posting 95 million pictures and videos every day. This means two things. There's a lot of content to compete with but also a lot of chances to get noticed. Share useful content and you'll attract attention. *Add another 200 million to this number if you're tallying monthly users. 77 million are in the U.S. alone.
 
Half of Millennials in the U.S. use the site daily. If your business appeals to those under 40, you need to be where they are and that's on Instagram.
 
Brand engagement is 58% higher than Facebook. From a numbers perspective, Facebook has the most active users, but Instagram is quickly gaining traction. Plus, its brand engagement is much higher than Facebook. People expect to see images from businesses and appreciate them almost as much as they do their friends'.
 
Highest performing posts use hashtags and location tags. This is good news for business so make sure you're using hashtags and telling people where you are.
 
Conversion rates are high on Instagram. For every 100 people on Instagram, one makes a purchase. That's the fourth highest conversion rate on a social network and it's expected to continue its growth.
 
Users generate 4.2 billion likes every day. That's a lot of opportunity to get people interested in your business products or services.
 
Nearly 30% of the U.S. population uses Instagram. The site has a very small learning curve and it is visually stimulating so people from varying backgrounds enjoy it. It's something that can be easily accessed for minutes at a time making it a good distraction for many.
 
51% of users are male, 49% female. Unlike a lot of social media sites, Instagram users are almost evenly divided between male and females. So, no matter who you are trying to reach, they are well represented.
 
Facebook owns Instagram. Facebook acquired Instagram in 2012 for $1billion. Why does that matter to you? Since they are owned by Facebook, both sites play nicely together. In fact, 54% of brands are promoting their Instagram accounts through custom Facebook tabs.
 
Not just for image companies. Instagram showed a 2.4% engagement rate for branded posts while Facebook produced a 0.8% engagement rate. If you sell a product or service that photographs well, what are you waiting for? But if you don't, there are still ways to connect with your audience. Share your hobbies, interests, even things about your community. Create tips, infographics, memes and other visual content. Use stories. Help your audience become a part of your world by transporting them there visually. Here are a few Instagram hacks to get you started.
If you're still on the fence about Instagram, you can wait and watch the audience size increase before you decide to commit to it. But while you're watching and waiting, there are already a lot of brands embracing it. Still, better late than never.